READY TO HELP AND EXPAND YOUR BUSINESS AND INVESTMENT
Langkawi has become a well-known holiday destination among domestic and international tourists. The island boasts its titles as the main tourism event organising location, duty-free island, and luxury holiday destination. Langkawi is also the first UNESCO Global Geopark in Malaysia and Southeast Asia. Also known as Langkawi the Jewel of Kedah, this island is in the Northwest of Peninsular Malaysia, approximately 30 km from Perlis and 50 km from Kedah. It is further divided into six mukim(s) (sub-districts, territories, or townships) namely Kuah, Air Hangat, Padang Matsirat, Ulu Melaka, Bohor, and Kedawang, spanning the land range of 478.85 km².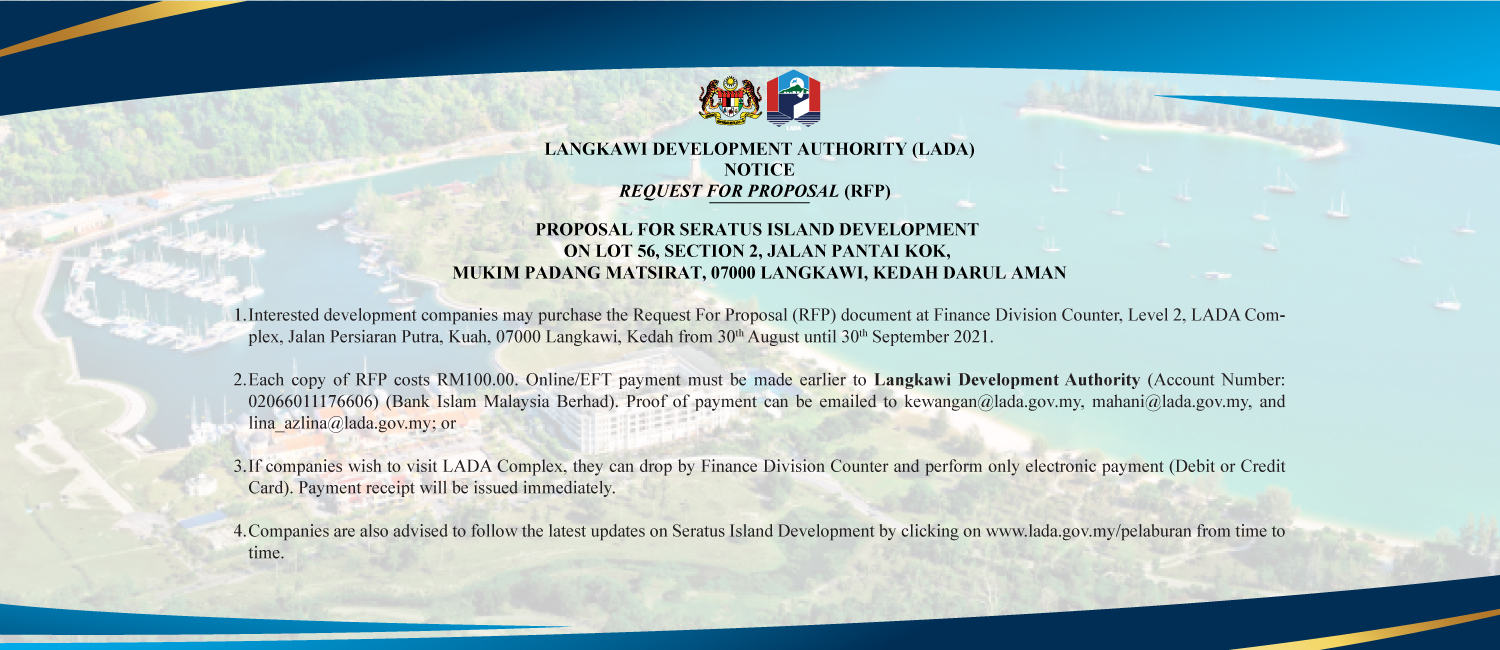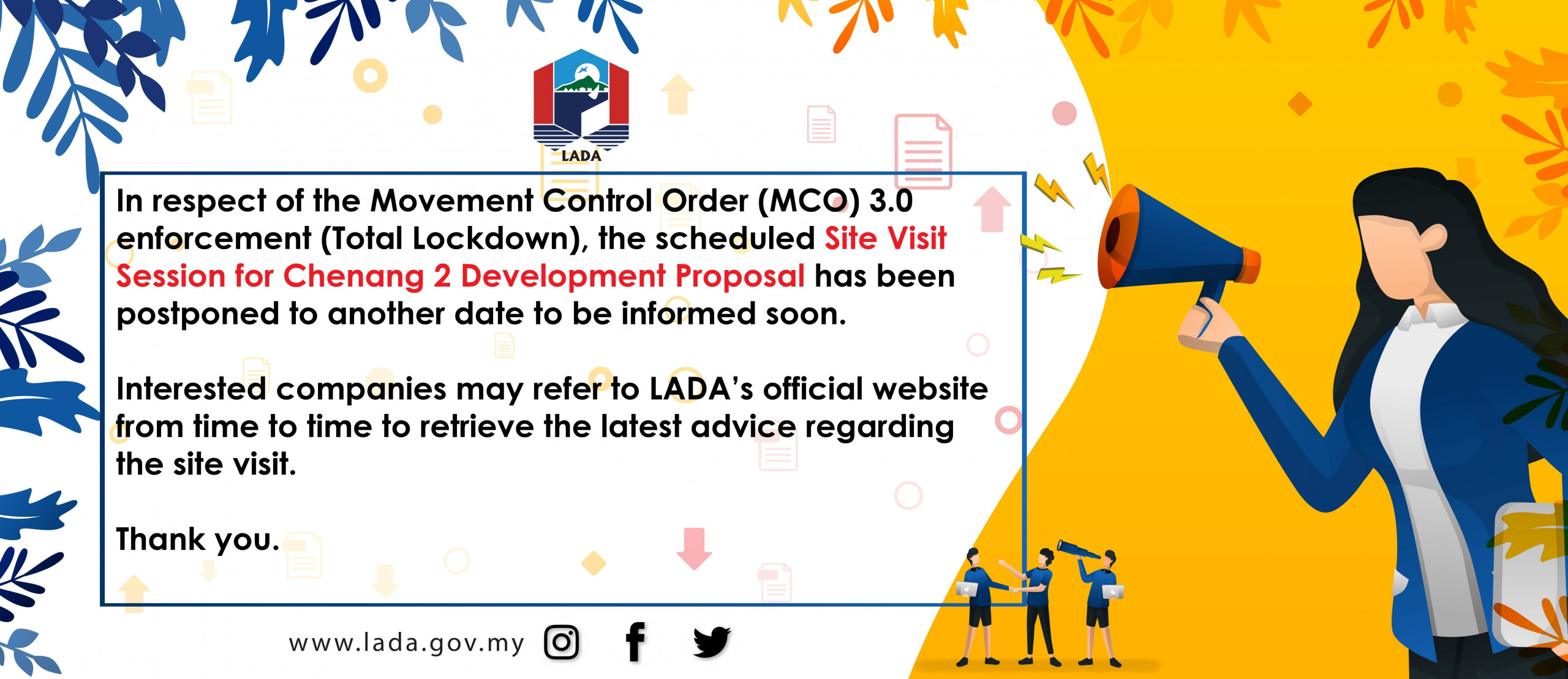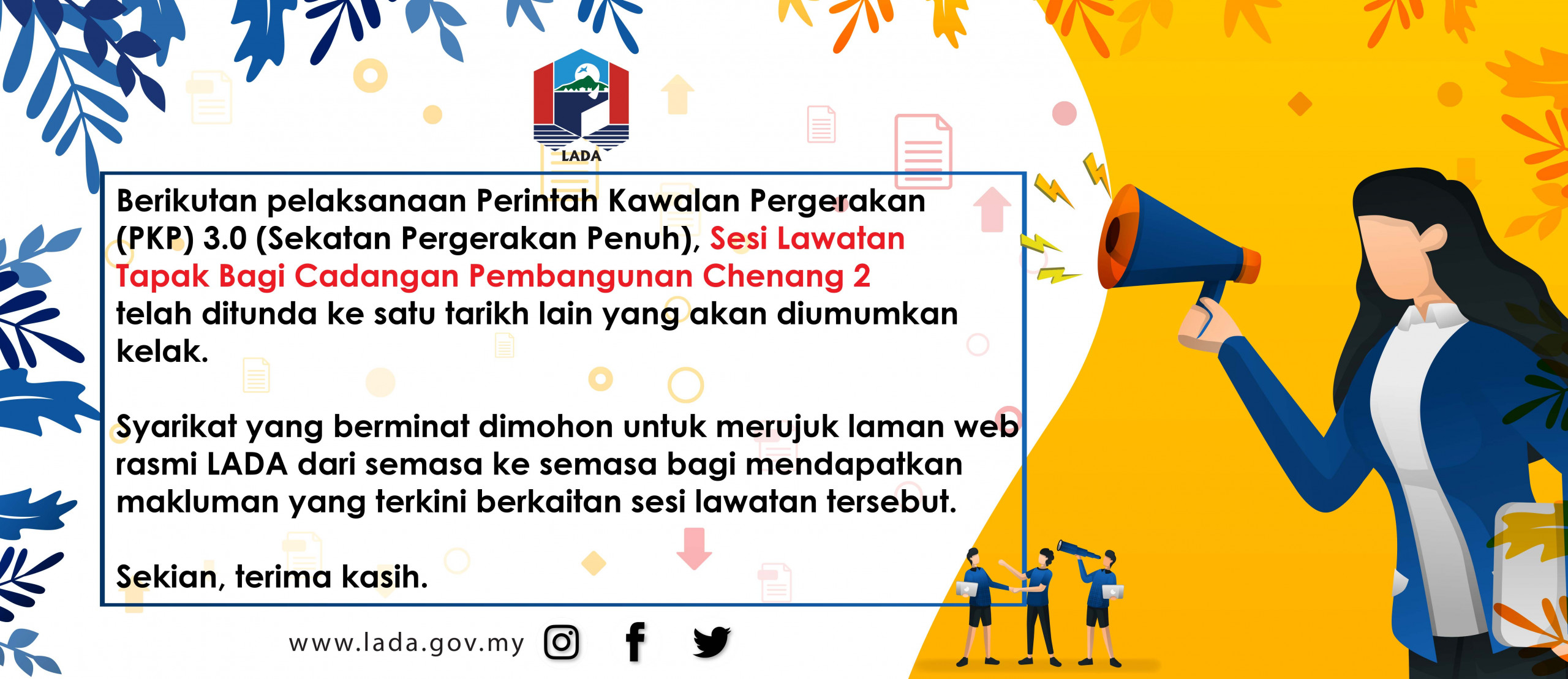 REQUEST FOR PROPOSAL (RFP)
CADANGAN PEMBANGUNAN CHENANG 2 DI ATAS LOT 60002, JALAN KUALA MUDA, MUKIM PADANG MATSIRAT, 07000 LANGKAWI, KEDAH DARUL AMAN
Sesi lawatan tapak Chenang 2 yang dijadualkan oleh LADA perlu dihadiri oleh semua Syarikat Pembida. Pengesahan kehadiran kepada sekretariat perlu dibuat sebelum tarikh pelaksanaan lawatan tapak. Selaras dengan pengumuman PKP 3.0, tarikh lawatan tapak terkini terpaksa ditunda ke satu tarikh lain yang akan dimaklumkan kelak. Syarikat Pembida dinasihatkan untuk merujuk laman sesawang ini dari semasa ke semasa bagi tarikh lawatan tapak yang baharu.
FOR THE DEVELOPMENT OF CHENANG 2 ON LOT 60002, JALAN KUALA MUDA, MUKIM PADANG MATSIRAT, 07000 LANGKAWI, KEDAH DARUL AMAN
All Bidding Companies are obligated to attend the Chenang 2 Site Visit Session as arranged by LADA. Attendance confirmation of all companies is compulsory and shall be informed to the secretariat before the date of site visit. In compliance with MCO 3.0 announcement, the latest site visit date has been postponed to a later one to be informed later. Bidding Companies are advised to refer to this website from time to time for a new site visit date.
LADA INVESTMENT APPLICATION PROCESS

LADA INVESTMENT APPLICATION CHECKLIST

6 Sub-Districts in Langkawi
INCENTIVES BY MALAYSIAN INVESTMENT DEVELOPMENT AUTHORITY (MIDA)
INCENTIVES BY NORTHERN CORRIDOR ECONOMIC REGION (NCER)